Willow Haven Outdoor Labor Day "SurviVacation!"
From John Jackson, Founder/CEO:
Recently I had a chance to speak to friend and Archery Tag® Licensee, Creek Stewart, about the great turnout he had for his event at Willow Haven Outdoor's "SurviVacation" in central Indiana over Labor Day weekend. I was very happy to hear that Archery Tag® proved to be a hit among participants and provided a fantastic way to practice their archery skills. Many experienced this game for the first time. One participant, who had his arm in a sling, couldn't be deterred from picking up a bow and getting in on the action! I'm honored that Archery Tag® can be recognized for its promotion of safety and contribution towards developing archery skills, as well as contributing to new friendships, good times, and great memories!
Other self-reliance and survival skills activities included setting snares, starting one-stick fires, weaving para-cord bracelets, and creating coal-burned wooden bowls. This event sounded like it was a fantastic combination of work and play!
Below some images from the weekend event. Additional event photographs are available on the Willow Haven Outdoor Facebook page. Information on Willow Haven Outdoor founder/owner Creek Stewart may be found at http://willowhavenoutdoor.com/creek-stewart/.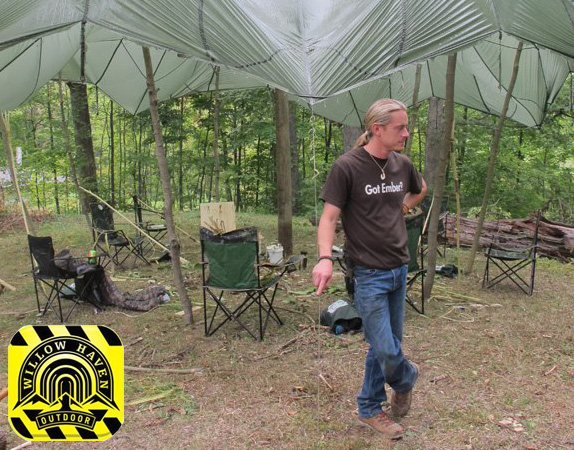 Above, Creek Stewart, survivalist/instructor/author/founder of Willow Haven Outdoor, oversees the activities. Below SurviVacation guests hone their archery skills!