The 6th Annual Boilin' Blazers vs. Mayor's Prayers basketball game took place at Angola High School, Angola, Indiana. This local event pits clients of Rise, Inc. against Mayor Hickman's team of business volunteers, with Mayor Hickman as coach. The Boilin' Blazers of Rise put in a lot of practice hours and have won every game to date.
Rise, Inc. is an employment training and rehabilitation center for adolescents and adults with intellectual and or physical disabilities. The primary focus of the not-for-profit organization is to offer services that will enhance the lives of persons with disabilities making them successful citizens within our community. Rise clients assist us with product assembly.
This basketball game is one of the Rise annual fundraising events. Admission is free, however, they do accept donations and raise money through snack bar sales, raffles, crafts, and from businesses who sponsor the event. Throughout, we offered shooting at our Hoverball® Archery Target at $1.00 for three arrows with all donations for Rise programming. One of our first shooters was David Koenig, Executive Director of the Steuben County Economic Development Corporation (SCEDC). David assisted us in our search for a new headquarters in Steuben County.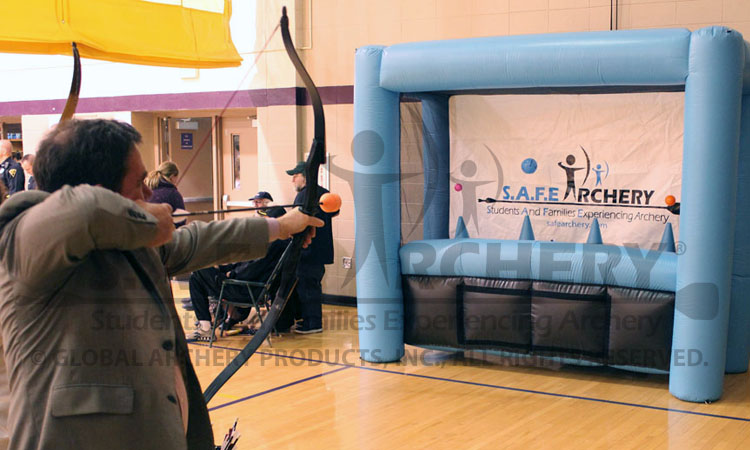 David Koenig, Executive Director of the Steuben County EDC, is one of our first shooters!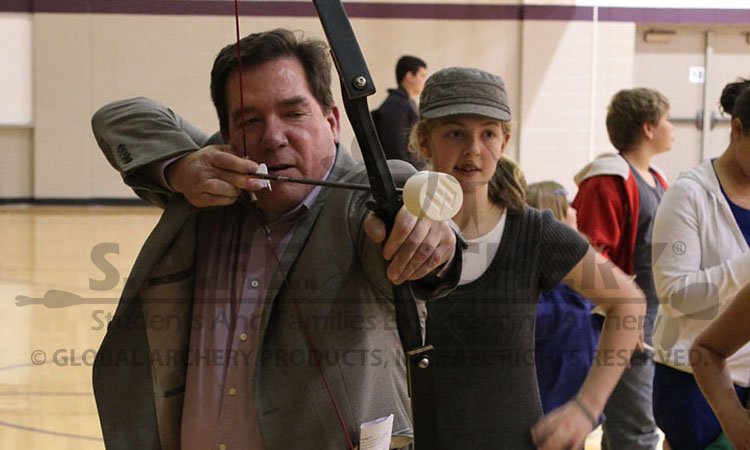 The event began at 7:00 p.m. with the Blazer Dancers together with the Trine University Pep Band led by Mark Kays. The Mayor's Movers hilarioius cheerleaders (local businessmen dressed in crazy outfits) led the players to the court. The announcer called off the starting teams and the play began. It was close, but the Boilin' Blazers led at half.
The halftime show included John Jackson, company Founder/CEO, shooting an apple off the head of Mayor Richard Hickman. John missed the first time, though he did not hit the Mayor, and the second shot was spot on! John and Mayor Hickman are pictured below. Announcing the action was Bill Stockberger of the Steuben County Community Foundation.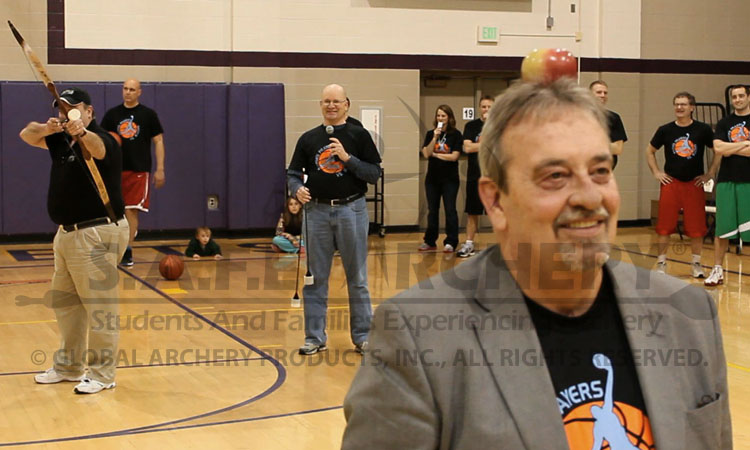 Above, City of Angola Mayor Richard Hickman stands center court while John shoots an apple off his head.
Below, a few of the Mayor's Movers cheerleaders are pictured. The wigs were a little odder than usual this year!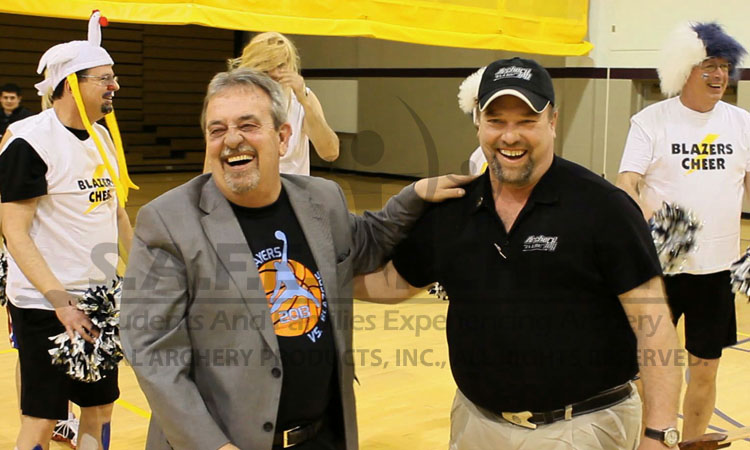 After the game, which the Blazers won, John shot an apple off the heads of Rise, Inc. clients Molly V. and Angie L. It was a fun event for all and we raised a little money for a fantastic organization.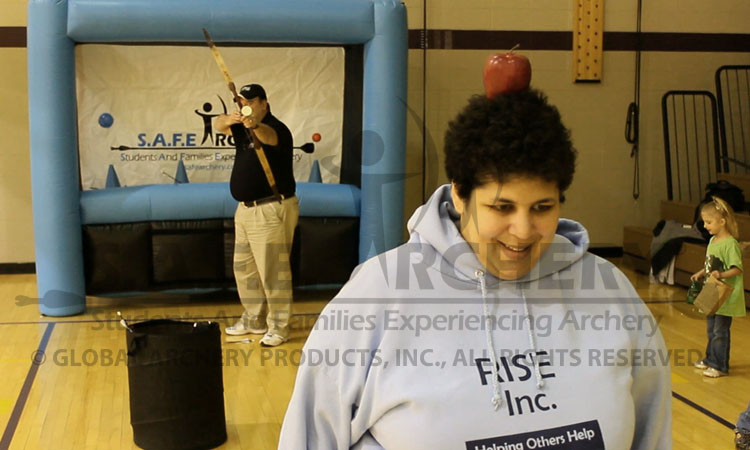 Molly V. (above) and Angie L. (below), clients of Rise, Inc., were excited for John to shoot apples off their heads. These ladies were fearless and John's shots were perfect!