November 14-18, 2011, John Jackson, company Founder/CEO, brought Archery Tag® to the International Association of Amusement Parks and Attractions (IAAPA) show in Orlando, Florida. "We were told that it sells out every year, but we were fortunate to reserve a 10' x 20' booth less than two weeks prior to the event," said Jackson. "We were also fortunate that the safety personnel allowed us to shoot arrows at our booth!," he commented, recalling the makeshift target which consisted of a sidewalk type sign with holes cut in it to shoot through. Several Licensees joined the Archery Tag® family as a result of this expo. It has become an annual tradition for the company.
One memorable moment from that show was when a representative from Disney saw people shooting arrows in our booth and commented that this was just what he had been looking for. With the Disney/Pixar animated movie Brave scheduled to premiere in June of 2012, he had been searching for a way to offer the Brave experience in a variety of venues. This led to our being invited to the World Premiere in Hollywood, where we ran "Merida's Archery Competition."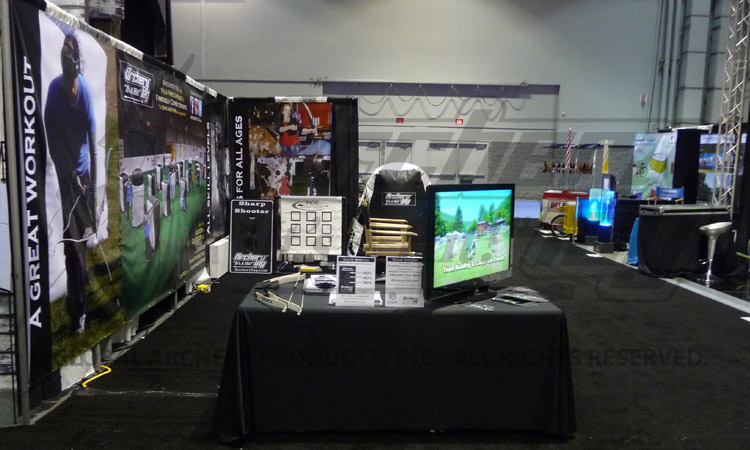 Above is our booth the first time we exhibited at IAAPA. Below an IAAPA attendees takes aim at the target with the Archery Tag® bow and arrow.