February 1, 2014
After the cancellation of the Eastern Outdoor Sports show last year by Reed Expositions, who had presented the event in Harrisburg Pennsylvania for the past 30 years, the National Rifle Association (NRA) stepped up to sponsor the event, beating out 16 other hopefuls vying to take over the show. The NRA vowed to revive the show under a new name and they did just that!
We attended the inaugural Great American Outdoor Show, from February 1-9, 2016 at the Pennsylvania Farm Show Complex and Expo Center (FSC) and there was a lot of excitement in the air. The number of vendors increased to 1,000, even with the NRA ousting some that did not fit the rest of the show, such as cell phone companies. Dozens of firearms manufacturers packed the halls, though guns were not for sale; the NRA wanted to avoid guns potentially being sold by companies or individuals not from Pennsylvania since crossing state lines with firearms is problematic. Plus, over 170,000 attended the event, braving severe winter storms and one state of emergency!
We were invited by the NRA to present Archery Tag® at the venue's arena February 2-6. Five days of Archery Tag® made this one of our biggest events to date! At our booth (#1127) in the event's Archery Hall was another of the inflatable targets.
With the number of activities and what is necessary to set up and run, Darla (John's wife) brought their entire family, as did Sales Manager, Grant Weber. In addition, we asked asked John's parents, Jack and Dee, to help along with other friends: Alex Dawson-Stanley and Robert Fay of Outdoor Discovery in Ireland; and Salehin and Shafi of Do Xtreme Sports in Singapore; and Robby Small and Alysia Bayles of Coldwater, Michigan, USA. To see a combat archery match of the USA versus International (Ireland and Singapore), click here.
The arena traffic was constant and the booth in the Archery Hall was non-stop, even with all of the snowfall! We had so many people at our booth that the following year people were asking to be placed near us to take advantage of our traffic! Click here to see John Jackson and his signature trickshot of shooting an apple off the head of a volunteer.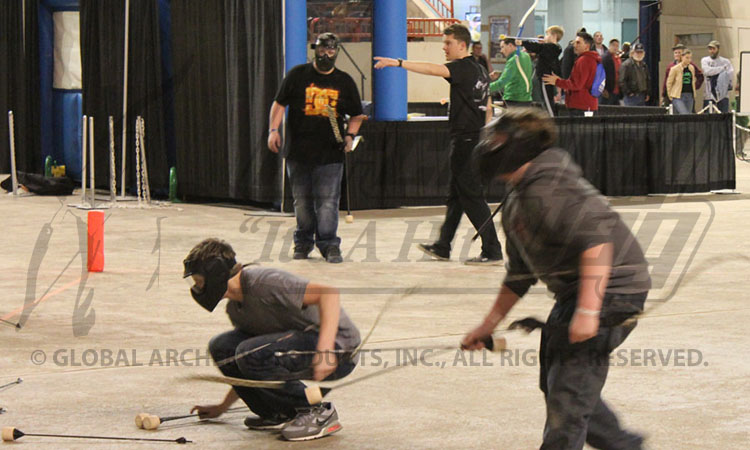 Above, Alex Dawson-Stanley (without facemask), of Outdoor Discovery in Ireland, directs the combat archery.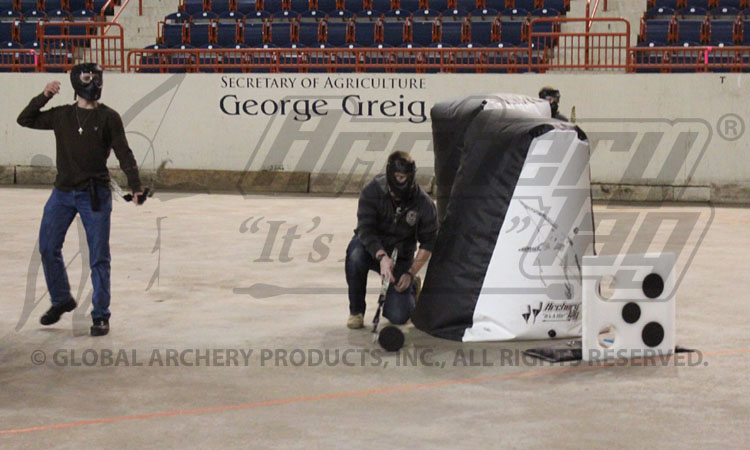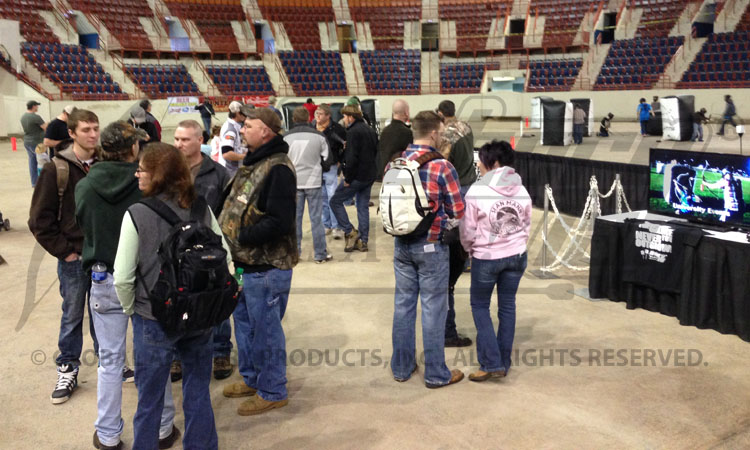 The crowds at the arena and our booth in the Archery Hall. Below, John's parents help shooters at the booth (Dee Jackson is handing out arrows and Jack Jackson is giving shooting tips (far right).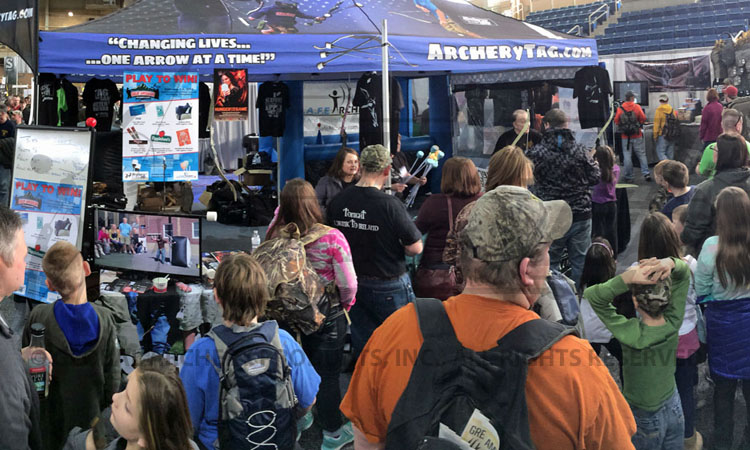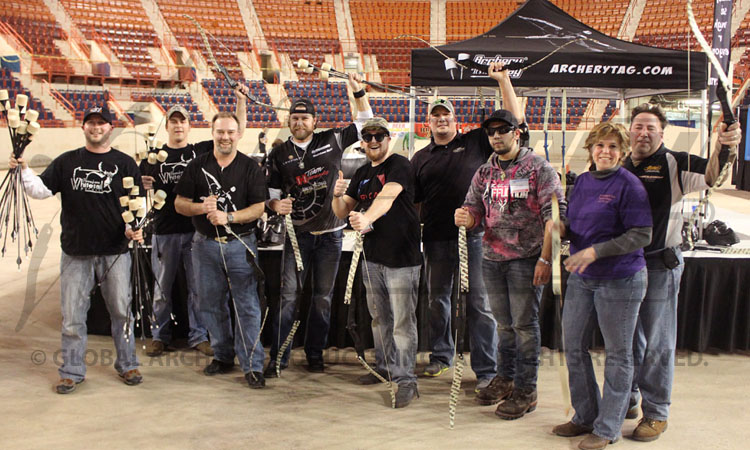 Pictured above from left to right are Verlyn Beachy, Sam Wise (both of Pennsulvania Whitetail Pursuit), John Jackson (Global Archery Founder/CEO), Major League Bowhunter Matt Duff, Chris Brackett of Fear NO Evil, George Novosel of Major League Bowhunter, xxxx, and Laurie and Shane Fitzgerald of Bowhunter's Den.
On the last day for our Archery Tag® field, we held an impromptu match as fans watched Matt Duff, Host, and Big George Novosel, Field Producer, of Major League Bowhunter; Chris Brackett, Host of Fear NO Evil; and Sam Wise and Verlyn Beachy of Pennsylvania Whitetail Pursuit battle it out on the field. It was a lot of fun, not only for those playing the game, but for the spectators in the stands. Chris Brackett got a little upset at a prank we pulled on him. Sorry Chris, but it was all in good fun! You can check out this game below.
After we tore down in the arena (for the concert the following day), we were invited to use the vacant space beside our booth to place an second Hoverball® Archery Target. Our booth was still packed with shooters, but we were able to get shooters through the line faster. Take a look at the images below.