Tuesday, March 4, 2014 was an exciting day for us! We celebrated the birthday of our company Founder/CEO, John Jackson, and also held a ribbon cutting at our new headquarters in Ashley (Steuben County), Indiana!
A majority of the staff were unaware that this was going to transpire. Friends, local dignitaries, and media were contacted via telephone calls that were intentionally made outside of the office (usually in the train depot parking lot) and email with event details.
While employees knew that John had been looking for a larger facility, they had no idea that the new decision on the new headquarters had been finalized and that the paperwork for the purchase had been submitted! We have monthly potluck luncheons and always do something for John's birthday, but this one began with something we had never done before— we started with a scavenger hunt! Employees were given a clue in Waterloo and had to find others along the way to eventually find the building right off highway 69 in Ashley. It was so much fun!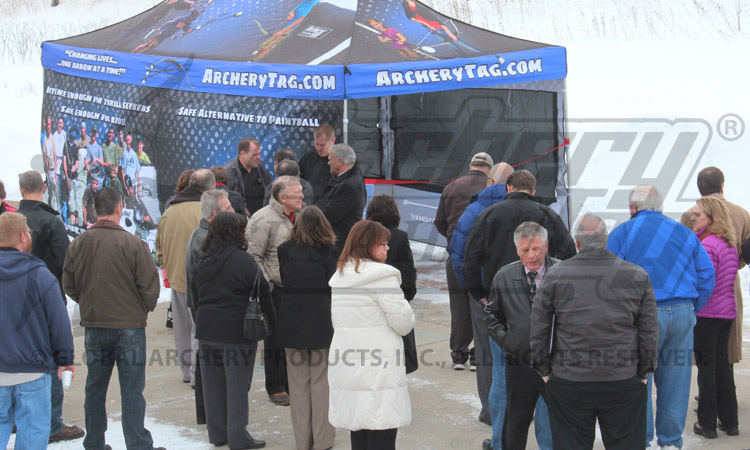 Standing outside waiting for everyone to arrive. It was cold with the temperature in the mid-teens.
In addition to employees, also in attendance were:
John's wife and children (his youngest shares this birth date)
John's parents
John's brother and sister-in-law
Craig Ralston, our Realtor, Re/Max, Angola, Indiana
David Koenig, Executive Director, Steuben County Economic Development Department (EDC)
Linda Fortner, Senior Project Manager - Northeast Region, Indiana Economic Development Corporation (IEDC)
Ken McCrory, Executive Director, DeKalb County Economic Development Partnership (EDP)
Becky Schenker, Administrative Assistant, DeKalb County EDP
Don Farrington, Town Council President, Town of Ashley
Randy McEntarfer, Town Council Vice President, Town of Ashley
Karen McEntarfer, Clerk-Treasurer, Town of Ashley
Ron Smith, President, Steuben County Commissioners, Steuben County Indiana
Mayor Norm Yoder, City of Auburn
Mayor Richard Hickman, City of Angola
Vivian Likes, Planner, City of Angola
Jack Bercaw, President, DeKalb County EDP Board of Directors
Wes Shie, Business Advisor/Marketing Coordinator, Northeast Indiana SBDC
Johnathan Karch, Vice President of Sales & Marketing, 3Rivers Archery
Heather Collier, 3Rivers Archery
Dean Vanderhorst, 3Rivers Archery, Ashley, Indiana
Janet Tidd, Owner/Manager, Lakeview Title
Mark Freudenberger, Triton Metal Products / Steuben County Industrial Guild, Hamilton, IN
Rob Studer, Owner, Studer and Sons, Edgerton, Ohio
Craig Gillespie, Family Dollar Distribution Center, Ashley, Indiana
Jim Measel, WLKI Radio
Evening Star Newspaper Representative
WANE TV News Channel 15 Crew
It was cold that day (temperature in the mid-teens), so we began just a few minutes after 10:00 a.m. with John thanking everyone for joining the celebration of our new headquarters, leading us in a brief prayer, and then cutting the ribbon! After, staff and guests were invited to view our new facility (that needed A LOT of work), enjoy the refreshments (cookies and beverages), shoot at our Hoverball® Archery Target, and play our Archery Tag® family-friendly combat archery. We left the facility for a catered luncheon at the train depot in Waterloo, Indiana (where we are currently located).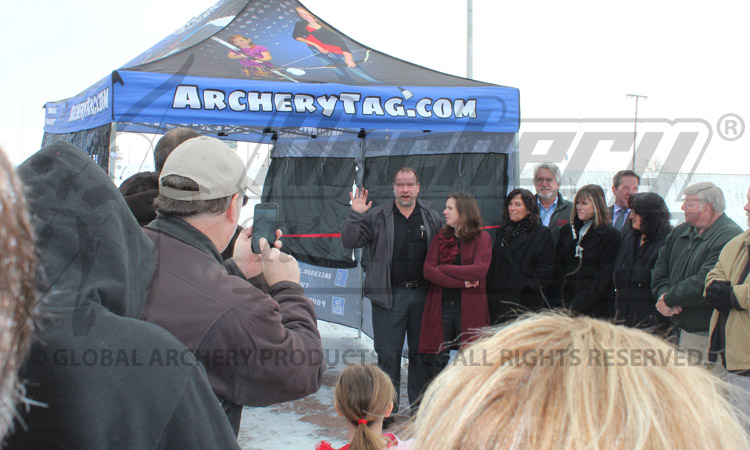 Above, with his hand raised, is John Jackson with his wife Darla at his side. To the right of Darla are Janet Tidd, Linda Fortner, Vivian Likes, Don Farrington, and, just outside of the frame, Randy McEntarfer (Karen McEntarfer is completely out of the picture, but stood beside Randy).
In the second row are Craig Ralston and David Koenig. Below, John cuts the ribbon.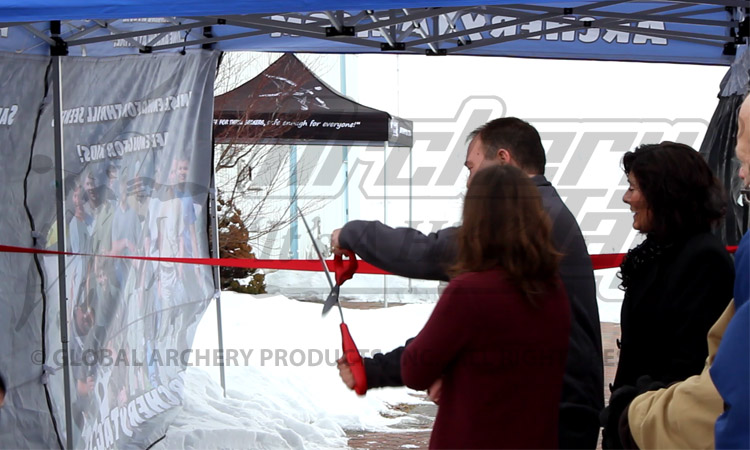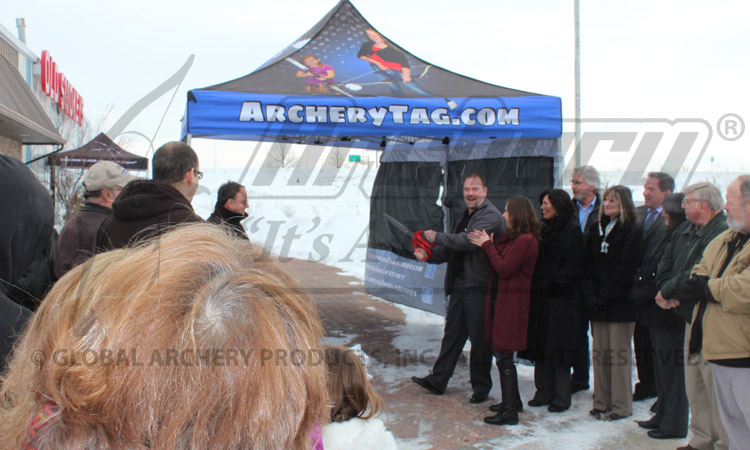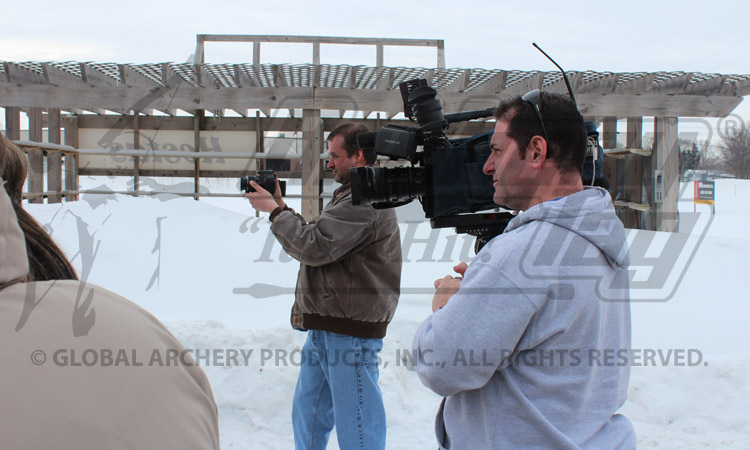 Above is the crew from WANE TV News Channel 15, Fort Wayne, Indiana