The Rinehart 100 at Bass & Bucks in Wabash, Indiana, got hit with a pretty good storm on Saturday evening, so Travis "T-Bone" Turner, of T-Bone Outdoors and the popular Outdoor Channel show Michael Waddell's Bone Collector, along with Bass & Bucks Staffer Helen tried their hand at a round of Archery Tag®. Check out the action here. They had so much fun that T-Bone and the Bass & Bucks staff came down to the Archery Tag® zone after the storm and challenged the Archery Tag® staff in an epic battle.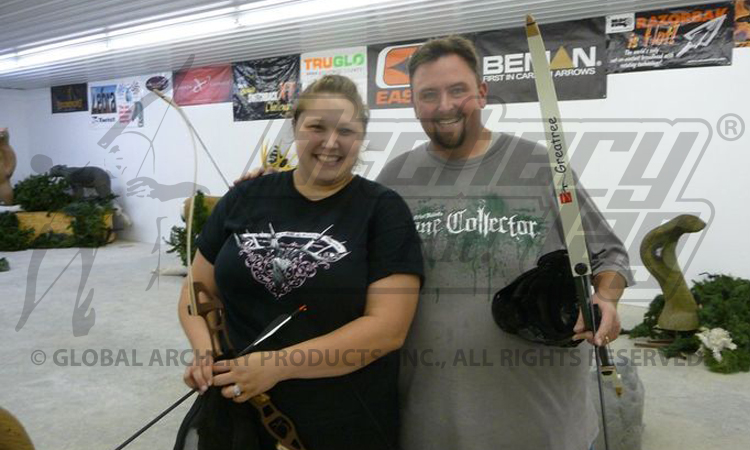 Above is Bass & Bucks Staffer Helen (left) and Travis "T-Bone" Turner (right). Below, T-Bone readies to catch one of nine arrows in an epic battle!
T-Bone perfected the art of catching arrows, with nine in one battle! He still holds the record. He fell in love with Archery Tag®, so John Jackson, company Founder/CEO, sent some arrows home with him. Later, T-Bone, along with Bone Collector personalities Michael Waddell (show creator) and Nick Mundt (show field producer and professional guide), spent time shooting each other during breaks from filming a Chevy truck commercial. Wonder who won that battle!
At the Rinehart 100, one of T-Bones young fans took aim at the popular outdoorsman. Check it out here!