While at IAAPA in 2011, a Disney representative took notice of the Archery Tag® take-down recurve bow and foam-tipped arrows. Mid-May, John was contacted by Diane Connors, the Vice President of Special Events for Walt Disney Studios. Diane expressed interested in our bows and arrows for the Disney/Pixar Brave world premiere in Hollywood. Although Diane said our Archery Tag® bow would be fine, John asked for images and specs of the bow used by Merida, the movie's heroine. In four weeks our Highland Bow™ was ready and look similar to the bow portrayed in the movie.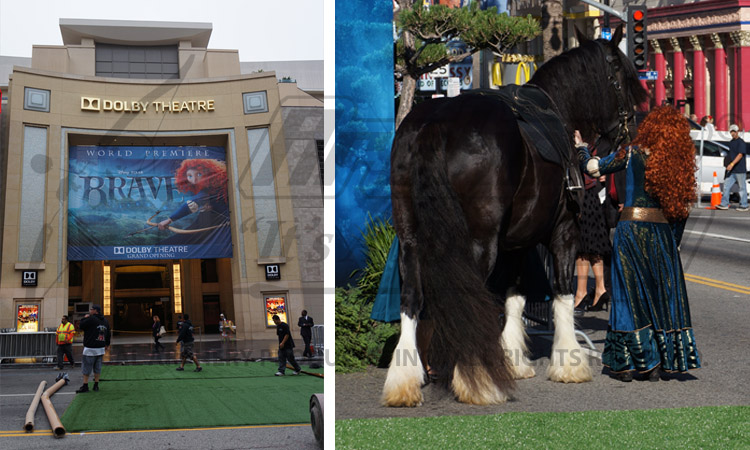 Above, the carpet (green for this event) being rolled out and "Merida" readying her horse for her arrival at the premiere.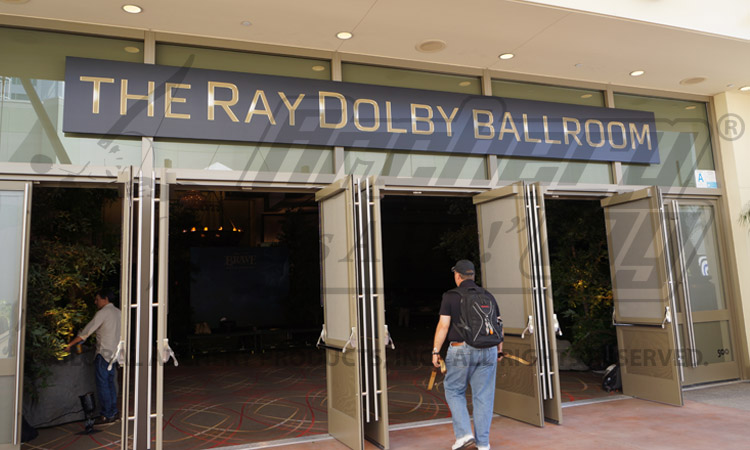 Above, John Jackson, Archery Tag® Founder/CEO arriving at the Dolby Ballroom to set up the archery experience that Disney dubbed Merida's Archery Competition. Pictured below is the entrance to the Ballroom.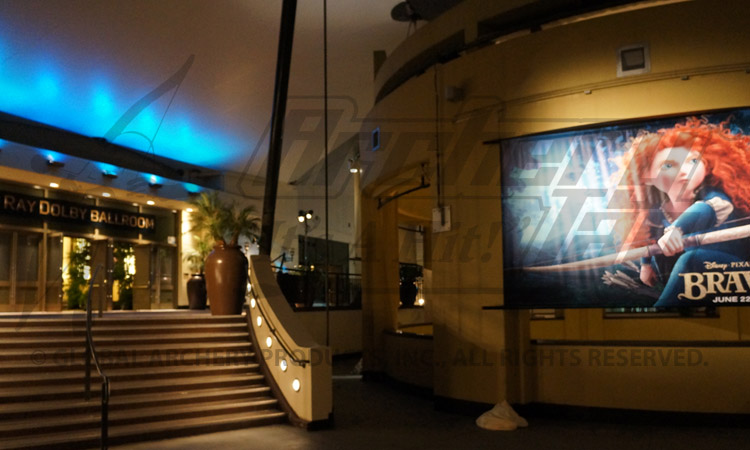 "Darla, my wife, and I were invited to attend the premiere and walked down the red carpet, which was actually green for this event," said John Jackson, company Founder/CEO. While do not have a image of John and Darla on the red carpet, John did snap a photo of actor John Ratzenberger, who voiced Gordon, and Peigi Barker, the voice of young Merida, arriving for the movie premiere.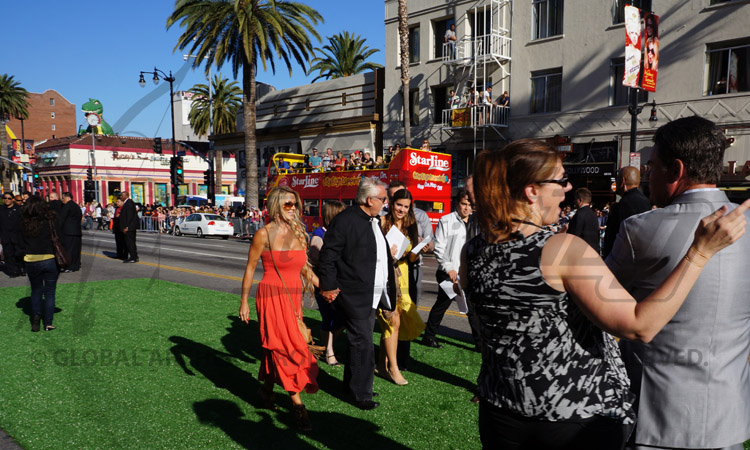 Above, John Ratzenbergerwalking the green carpet. Fact: John Ratzenberger is the only actor to voice a character in every Pixar film.
Below, Peigi Barker, who voices young Merida, arriving.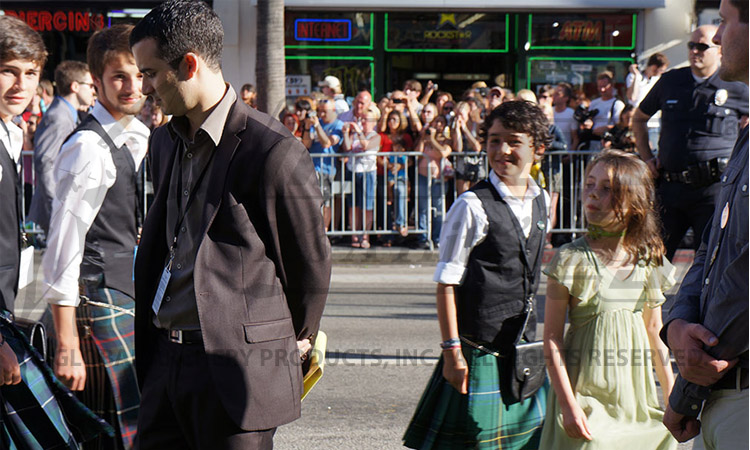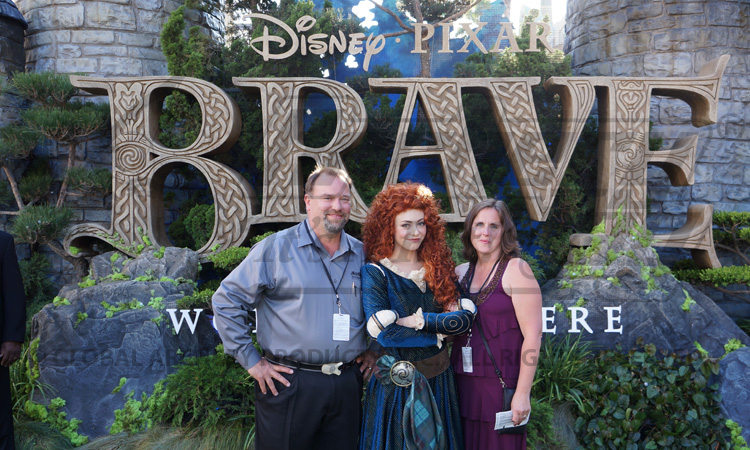 Picture above are John and Darla Jackson, with a real-life Merida standing between them, at the World Premiere of the Disney/Pixar movie Brave in Hollywood at the Dolby Theatre.
This was also the week that John and Darla celebrated their 20th Wedding Anniversary!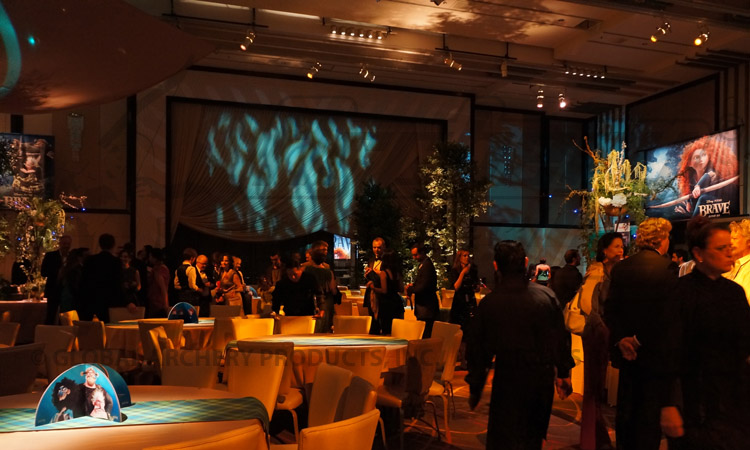 In line with the movie's setting, the star-studded event featured a Scottish theme, from the bagpipes and highland dancers to the ceremonial presentation of the haggis (the national dish of Scotland). At the after party, the renowned chef and restaurateur, Wolfgang Puck, served up Scottish-inspired dishes including tasty desserts, but no magic tarts!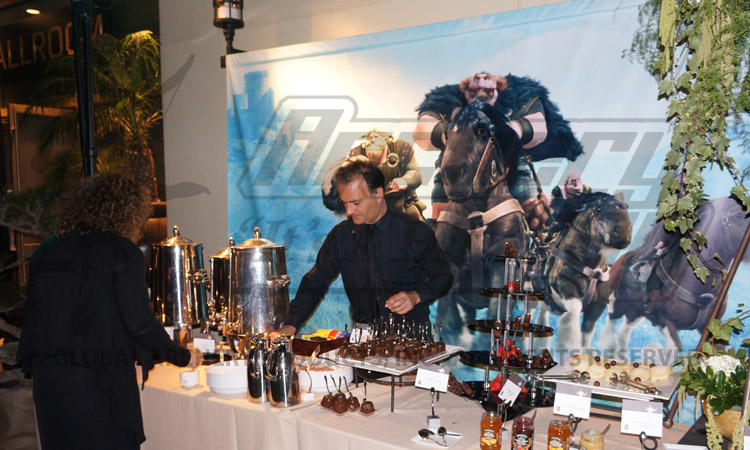 John and Darla hosted the archery experience Walt Disney Studios named Merida's Archery Competition. "Celebrities and guests stood in line to try their hand at archery. We were amazed by all the interest and so were the Disney representatives," said John Jackson. One of the celebrities in attendance was Academy Award-winning actress Marcia Gay Harden, along with her children, Eulala and twins Julitta and Hudson. She contacted John the following spring inquiring about Archery Tag® for twins' birthday party.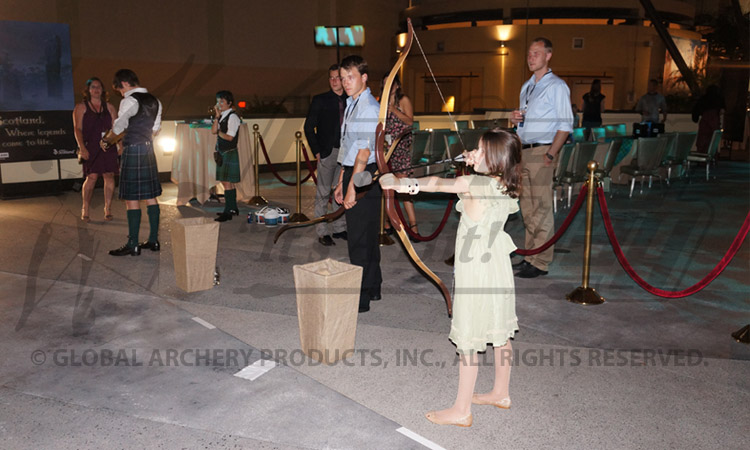 Above, Peigi Barber, the voice of young Merida in the movie, takes aim with Highland Bow™ in Merida's Archery Competition. Click here to see her reaction to her bullseye! Below, guests line up for a try. Peigi Barker joined the line for another chance at the target.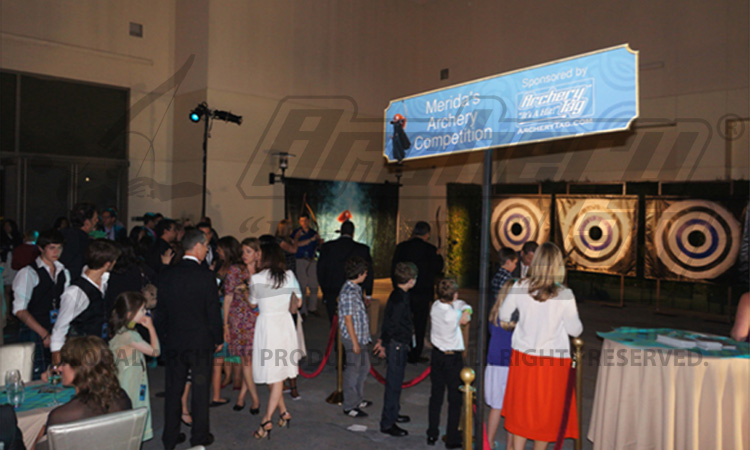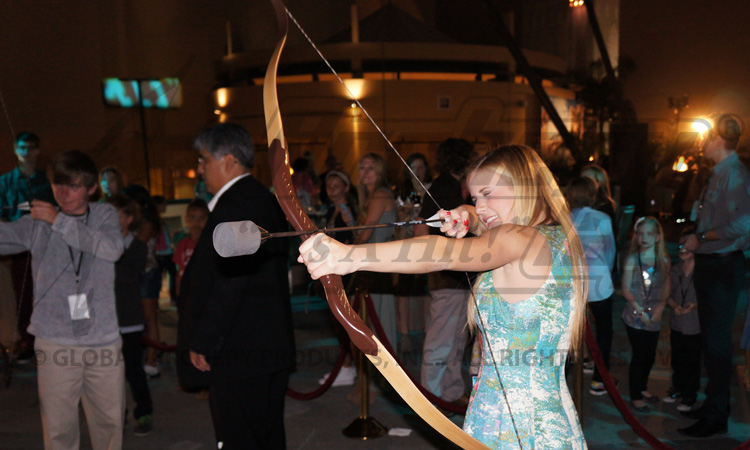 Actress Caroline Sunshine demonstrates her archery skills and, below, celebrates a great shot!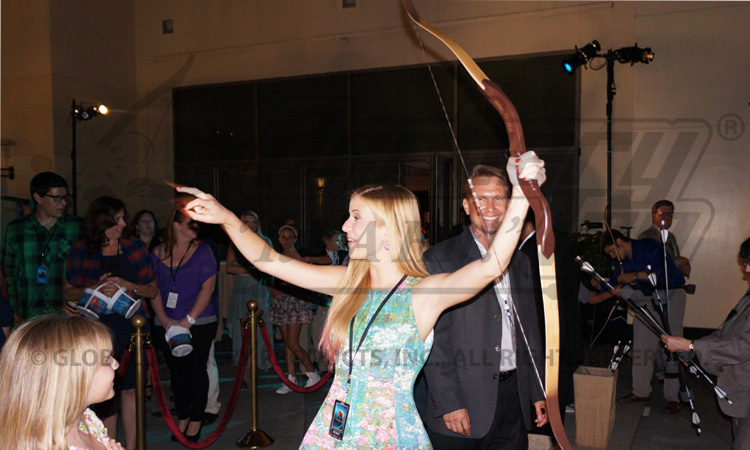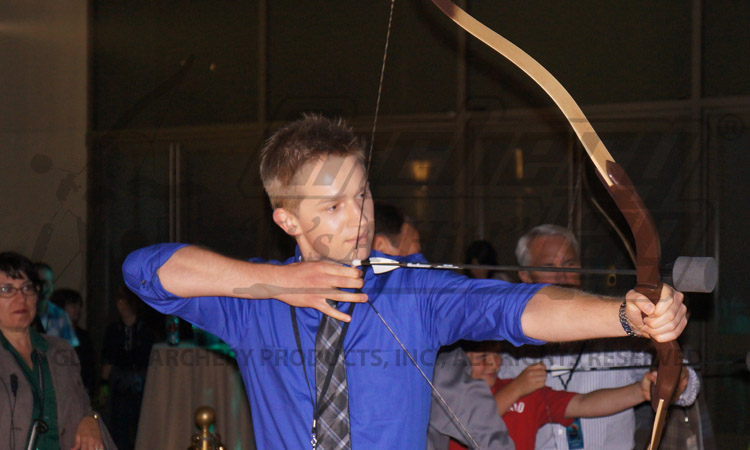 Above, actor Jason Dolley takes aim and, below, actress/model/writer Tasha Dixon receives archery tips from John Jackson, Archery Tag® Founder/CEO.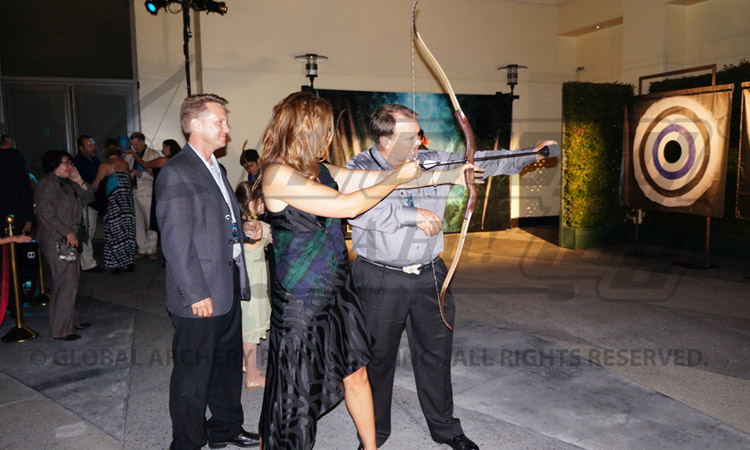 John added, "Seeing the interest in target shooting is what led us to the S.A.F.E. Archery® line of products." The Students and Families Experiencing (S.A.F.E.) Archery line includes targets, bows, and arrows. Products are being improved and added. One of these is our Highland Bow™.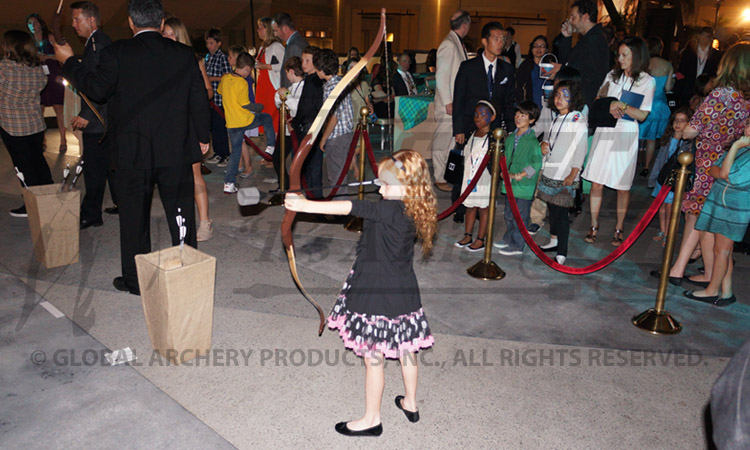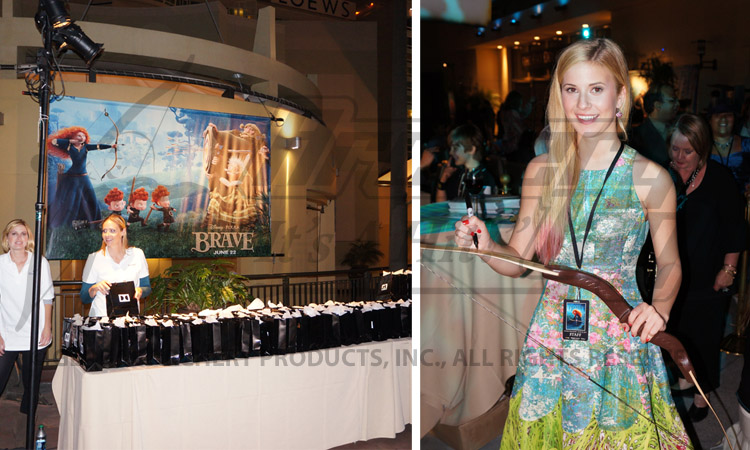 Pictured above, are the guest gift bags (left). Above (right) is actress Caroline Sunshine autographing John Jackson's Highland Bow™. Below, Tasha Dixon adds her signature.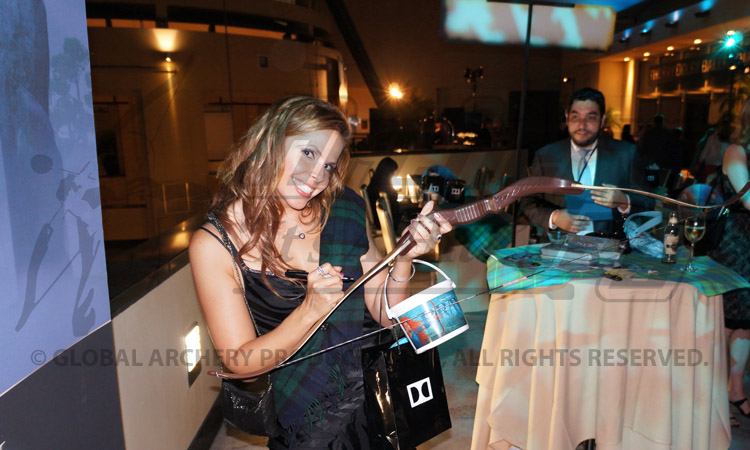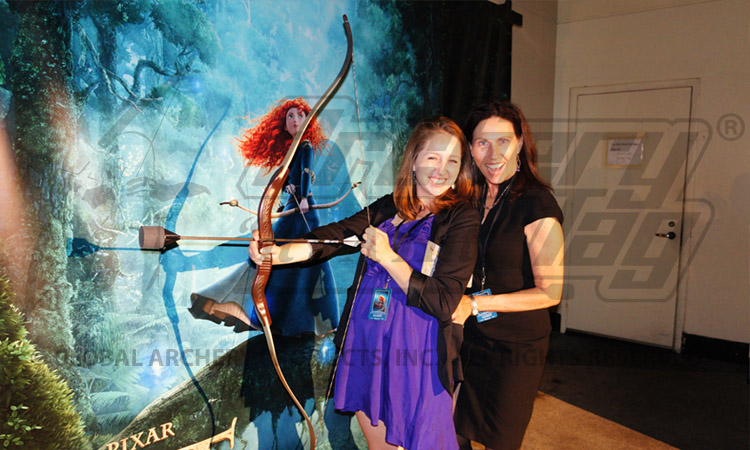 Guests, above, pose with the Highland Bow™ in front of a large Merida banner.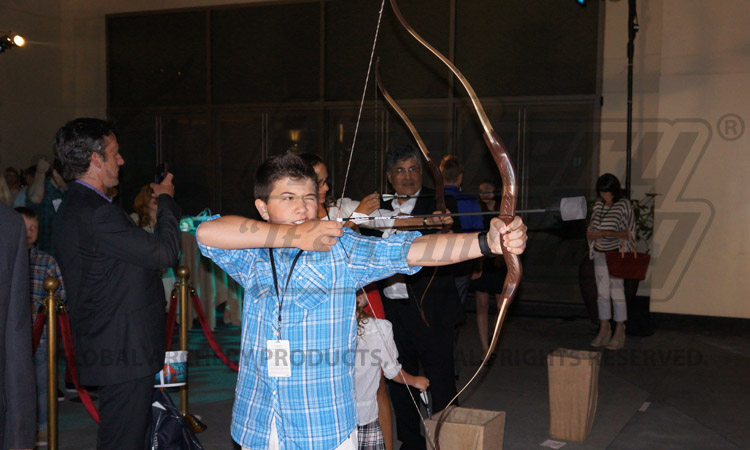 Above, actor Bradley Steven Perry takes aim in Merida's Archery Competition. Below, the line for the competition is steady.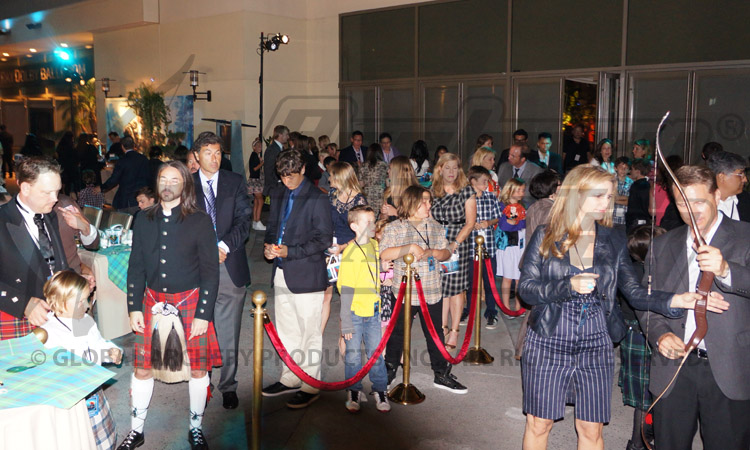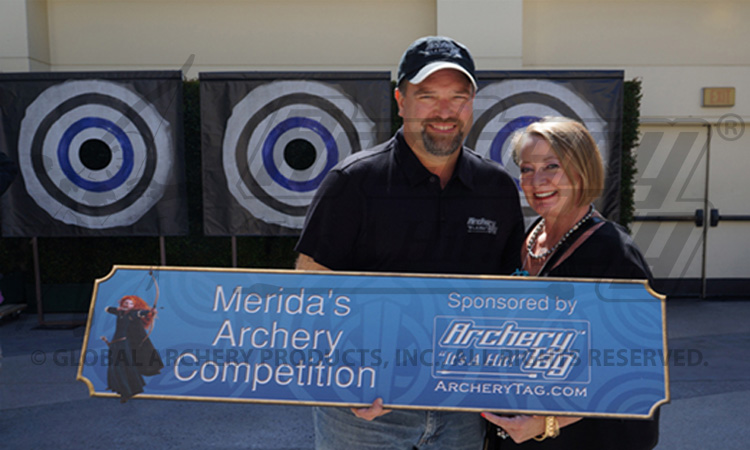 John Jackson with Diane Connors, VP of Special Events for Walt Disney Studios Motion Pictures. Diane gifted the event sign to John and it holds a prized spot in his office above his desk. Another souvenir of the event is a Highland Bow™ signed by celebrities.
After the event Diane Connors emailed John:
Hi John,
Many thanks to you and your lovely bride for your generous donation and all of your time and assistance on the BRAVE premiere last night in Hollywood. It was quite an undertaking and we never could have executed that very popular activity without you!
It was a pleasure working with both of you and we really appreciate your participation.
Many thanks!
Diane Connors
VP Special Events
Walt Disney Studios Motion Pictures
The Disney representative who spoke with John at IAAPA expressed his appreciation, "Movies in the last two years have certainly put archery into the minds of people. Thank you for helping me put archery into their hands, allowing them to try a new sport in a safe, though unexpected, environment."
Archery Tag® began with the take-down recurve bow and "non-lethal" arrows. The interest in archery at the Disney event and popularity of the target shooting led to S.A.F.E. Archery® and a bow with a lower draw weight. This eventually led to a bow with a draw weight between the two: the Archery Tag® Cadet bow.
Below, John Jackson, Archery Tag® Founder/CEO, reads an article about the sport in June's Delta Sky magazine. This article was also ready by NY Times best-selling author, Tim Ferriss, who invited John to participate in a live webcast.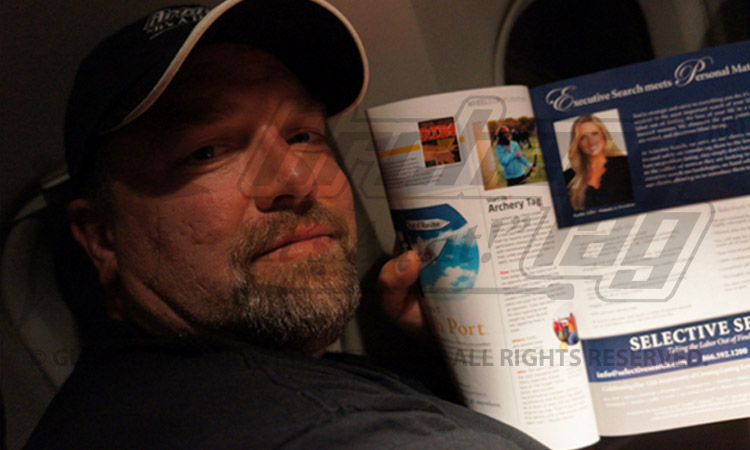 When John Jackson returned to Indiana, he hosted a Brave archery experience at the Rave Theater in Fort Wayne. As in Hollywood, the archery was enjoyed by both adults and youth.