Archery Tag® began because of creator and company CEO John Jackson's love of archery. In March 2009, he launched DeerSpace®, an online community for those with a passion for the outdoors. This eventually led to the development of a take-down recurve bow with a distinctive riser (see image below) and the Instinct Archery® line of products.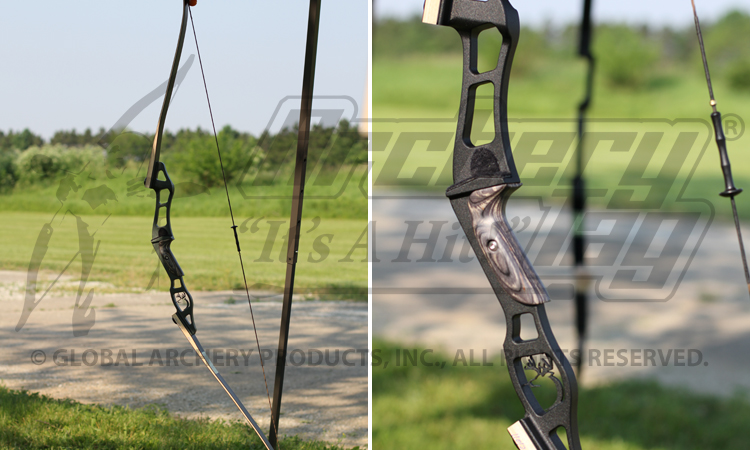 Above is the Instinct Archery® bow with the distinctive cutout design of the riser.
In April 2011, while visiting a vendor, Jackson and the company engineer spotted a small piece of foam. They thought it would be fun to place it on the end of an arrow and shoot at each other. They returned to the office and within an hour had printed the arrow tip on the 3D printer, attached it to a shaft, and had a prototype arrow. From that arrow (pictured below) and the Instinct Archery® bow, upon which the Archery Tag® bow is based (without the riser cutout design), the sport of combat archery and Archery Tag® were born.

The prototype "non-lethal" arrow is pictured above. The blunt, below the foam tip, resembles Hershey's Kisses.
Below isthe equipment, with modifications to the arrow, used when Archery Tag® was introduced.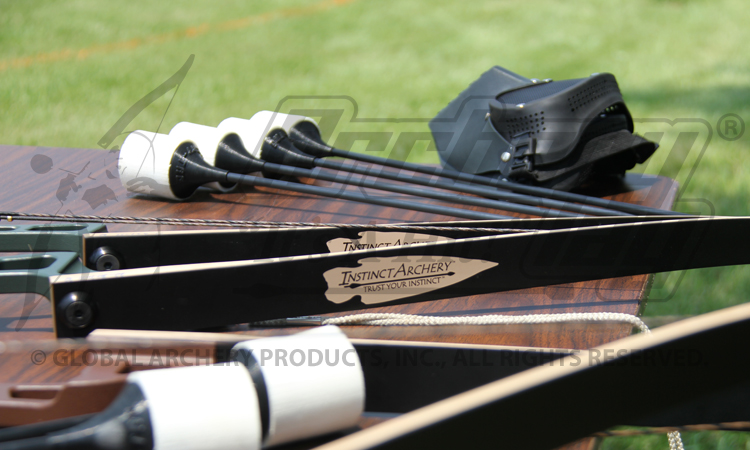 After the original foam-tipped arrow prototype modifications were implemented, which he patented, Jackson took the bows and arrows to Bass & Bucks in nearby Wabash, Indiana, on June 4, 2011 for the First Annual Shoot for a Cause fundraising event. The first combat archery game was played with a speedball field and rules instituted as game play progressed. "We posted a video on YouTube of some of the play as well as player reactions, and suddenly we were being contacted by people from around the world. They called and emailed wanting to know game rules, how to purchase equipment, and where to play. It was incredible that the game we created was receiving so much attention," Jackson recounted. This video, posted June 7, 2011, can be viewed below.
A couple of participants of our first ever Archery Tag® combat archery game played June 4, 2011.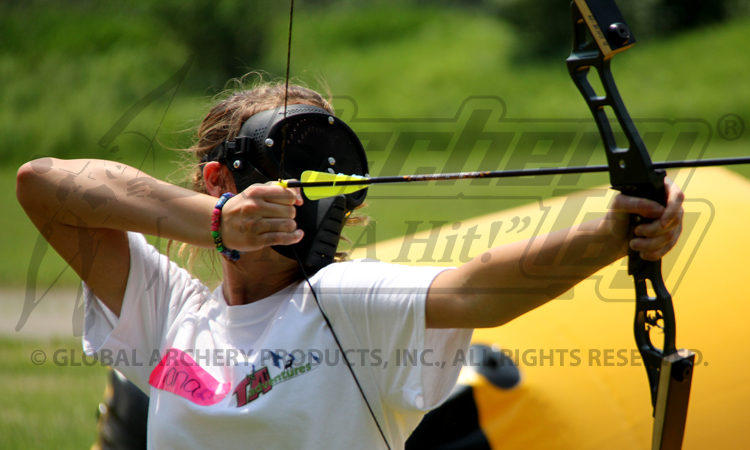 "Our first official event was October 2011, in Elkhart, Indiana, for Officer Appreciation Day and a couple hundred people played with the new Archery Tag® bow and arrows," Jackson continued, "We then presented it at my church's Fall Festival and attendees could not get enough of Archery Tag®; it continued after dark with car headlights illuminating the field. It was absolutely amazing to see the excitement of the players and spectators! That's when we knew that we had created something unique and unlike other combat sports; we had moms, dads, brothers, and sisters all playing together! It was adrenaline-filled, yet safe and fun for the entire family. It was incredible to watch. The following year we set up two fields and brought generators to the light the area."
"It is hard to believe that it has been only five years," commented Jackson, "I have been blessed to witness people of all ages from different countries and backgrounds enjoying Archery Tag®. I love seeing people who have never picked up a bow and arrow out on the Archery Tag® field and within minutes shooting as if they have been doing it for years!"
When considering the future of Archery Tag® and combat archery, Jackson expressed that his vision is of Archery Tag® leagues and recognition as a sanctioned global sport. "We are working toward that end and will see what happens. In the interim, we have Licensees around the world providing family-friendly combat archery and that is something that will always be a part of Archery Tag®."
With the increased popularity of the sport and subsequent growth, there have been an increasing number of imitators who are trying to benefit from our innovation and hard work. "It is unfortunate, but that is the downside to the popularity of Archery Tag®," stated Jackson, adding, "What they cannot duplicate is our safety record, which has been exemplary since the inception of Archery Tag®. We tested a knockoff arrow and, after only six shots at a sheet of drywall, the tip loosened and the drywall dented."
For Official Archery Tag® Licensees visit ArcheryTag.com/locations and enjoy Archery Tag®—the ORIGINAL. Often imitated, never duplicated!