Zombies were again invited to the streets of downtown Auburn, Indiana! The 2nd Annual Zombie Invasion, presented by the DeKalb Chamber Partnership, hit historic downtown Auburn on Friday, the 11th of October, from 5:00 p.m. to 10:00 p.m. We brought Archery Tag®, (asking $2.00 per game, just like the first event), and a target. There were so few at the target this year, that we did not charge. Everyone who played or shot at the target received Halloween candy (mini Snickers, Kit Kat Bars, Reese's Peanut Butter Cups, or Hershey Assorted Minis). All proceeds were donated to the DeKalb Chamber Partnership's College Scholarship Fund.
Prior to the start of the event, we had to prepare our zombie helpers, very quickly. Two zombies down; it was the best that could be done in the short time we had since people were already lining up for Archery Tag®!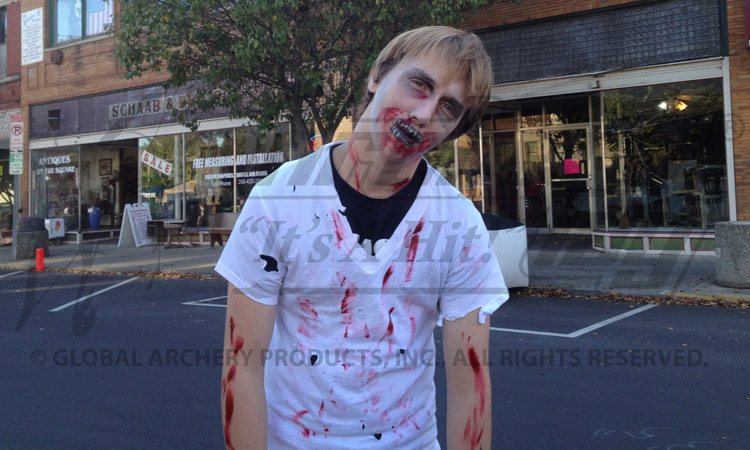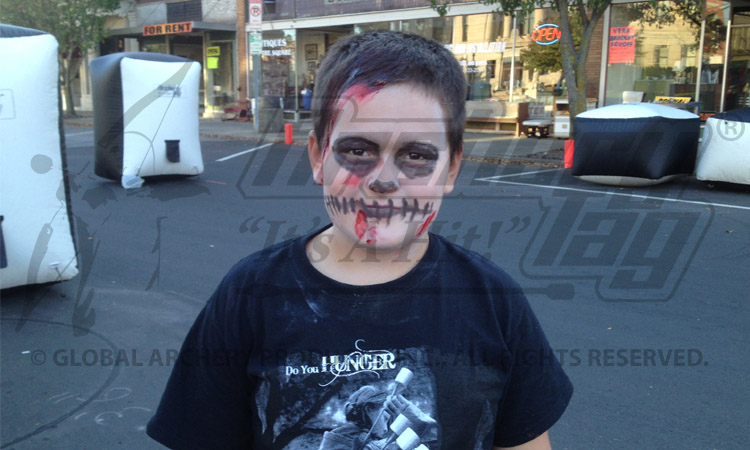 Then a mother asked if we could make her little girl look like a zombie. We applied the makeup and hope she liked the result (see below).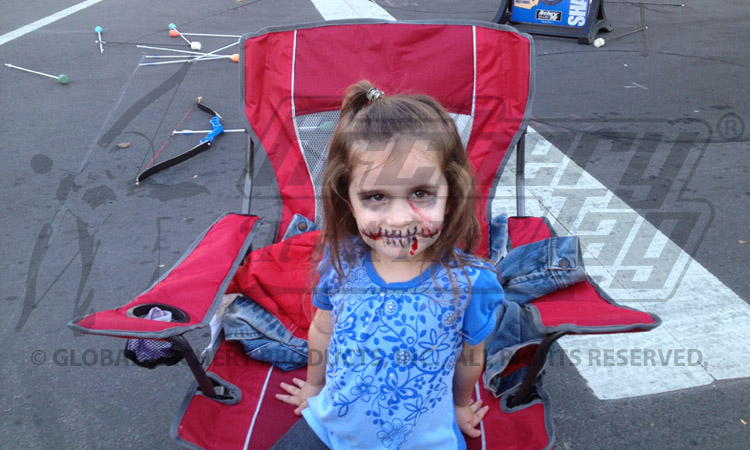 We were in a prime location this year—right on the primary intersection (Main and Seventh)! This was great because quite a few people read about us being here and hoped we would be easy to find.
Below are our first players! They were so excited to play Archery Tag® that they wanted to pose with the bows before entering the field of play.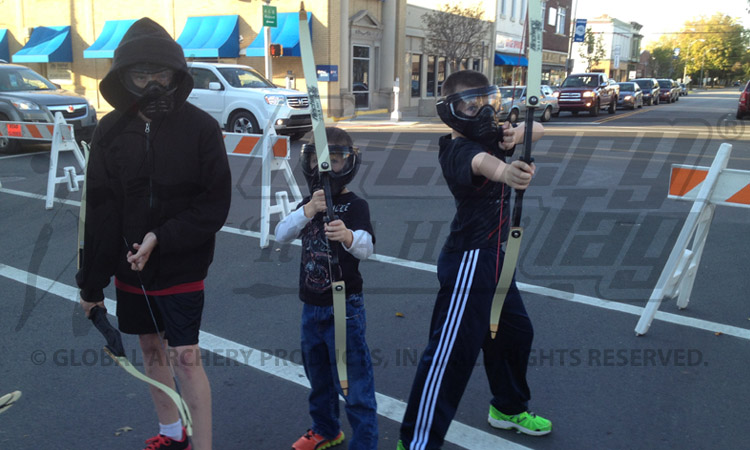 The combat archery battles were great! No hiding behind bunkers here; these players got right out there and took aim!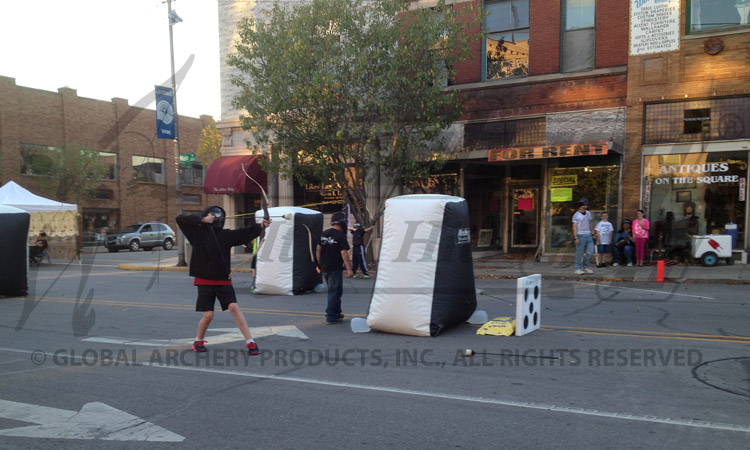 We want to give a shout out to Big Red Sports, right on the corner (below). First, they embroider our shirts and do a fantastic job! Second, when there was an issue with the power on the light pole, they invited us to use the plug in the store to blow up our bunkers. Great people!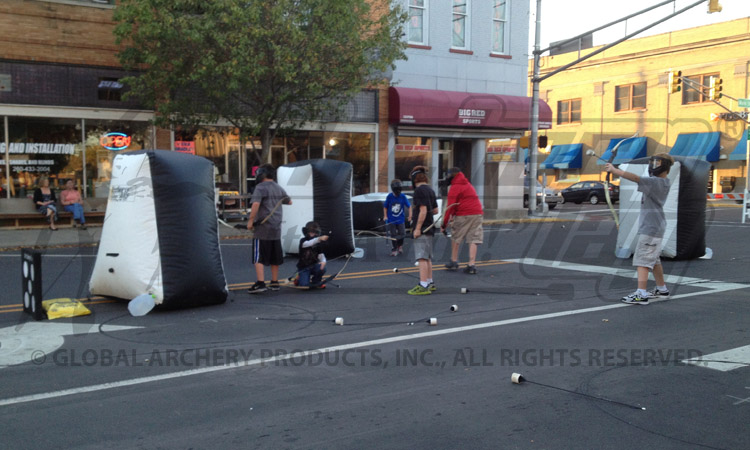 It seemed to begin to get dark quickly, but the streetlights enabled us to continue until nearly 11:00 p.m.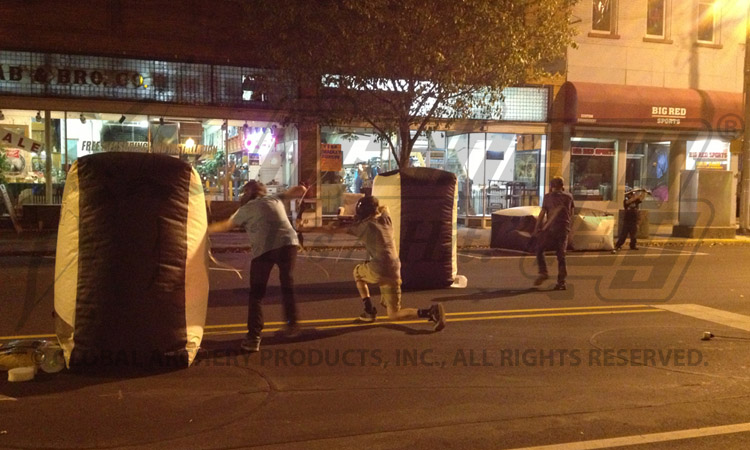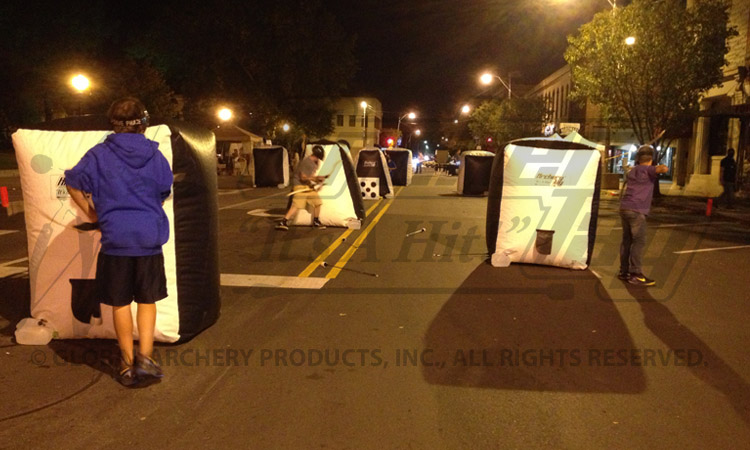 Remember the little girl who was made up as a zombie prior to the event? Well, they stopped back to let us know that she won a prize from the DeKalb Chamber Partnership as the "best little zombie." Who would have guessed! The little one was so happy that she just kept talking to us about walking in front of everyone and the final vote. Her mother said that she had tried to get our attention earlier so that we would make up her son, but we were too busy with Archery Tag® and a local newspaper reporter. She asked if we could make him up at the end of the night so that both kids could go home and scare their father. We freshened up the little girl's makeup as well. Below is the outcome. I believe the brother would have had a chance at a prize, but he may have eliminated his little sister from the competition. They all left very happy!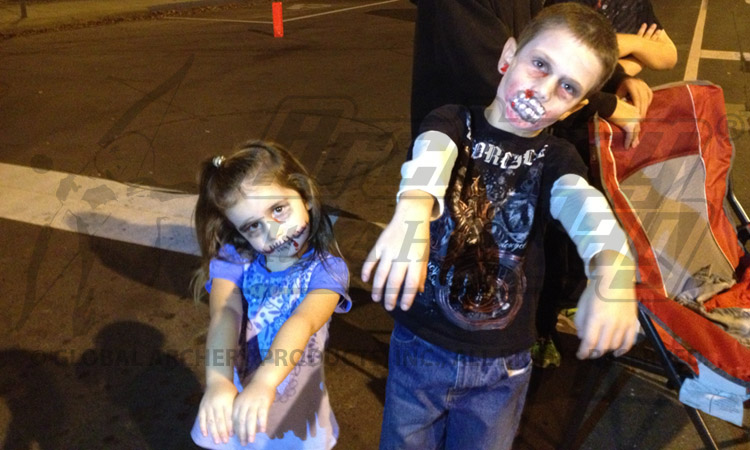 This is a perfect example of how Archery Tag® can be played nearly anywhere. In case it was breezy, we weighted the bunkers. The field width was reduced, but the length was the same. As always, there was the 20-foot safe zone. What a fun night!