Extreme Archery Brand Comparison
Extreme Archery Brand Comparison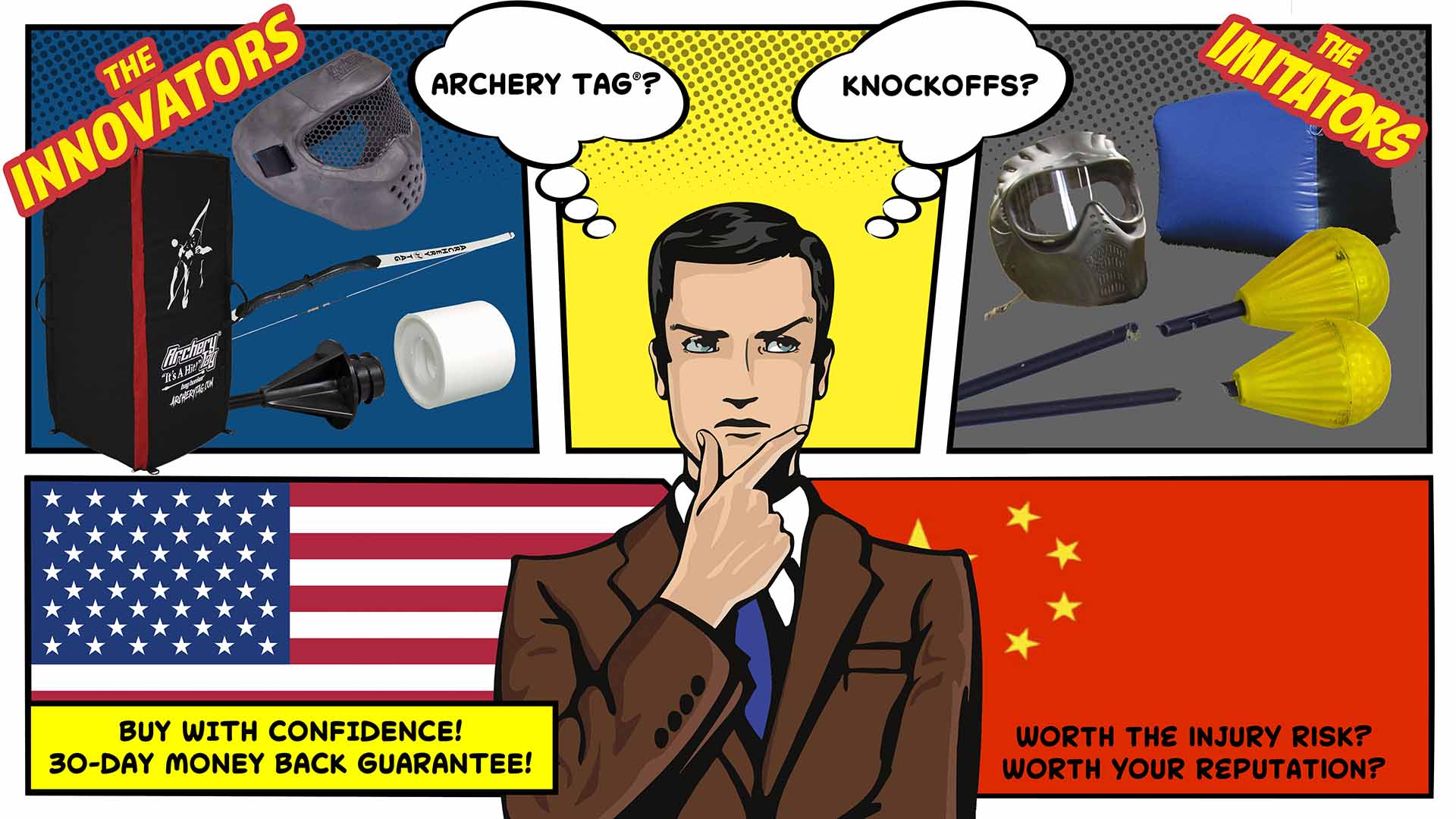 | | Archery Tag® Standard | KB Combat Starter | Archery Attack 12 Player | Upshot Arrows 12 Player | Archery Tag® Deluxe | KB Combat Beginner | Upshot Arrows 16 Player | Archery Tag® Premium | KB Combat Advanced | Archery Attack 24 Player | Upshot Arrows 24 Player | Archery Tag® Premium Plus | KB Pro 2.0 | Archery Attack 36 Player | Upshot Arrows 32 Player |
| --- | --- | --- | --- | --- | --- | --- | --- | --- | --- | --- | --- | --- | --- | --- | --- |
| Bows | 12 | 12 | 12 | 12 | 16 | 16 | 16 | 24 | 24 | 24 | 24 | 32 | 32 | 36 | 32 |
| Extra Strings | 12 | 12 | 24 | 10 | 16 | 16 | 16 | 24 | 24 | 48 | 24 | 32 | 32 | 72 | 32 |
| Arrows | 48 PATENTED (Screw On Replaceable Tip) | 48 Non-replaceable Tip | 56 Non-replaceable Tip | 48 Non-replaceable Tip | 64 PATENTED (Screw On Replaceable Tip) | 64 Non-replaceable Tip | 64 Non-replaceable Tip | 96 PATENTED (Screw On Replaceable Tip) | 96 Non-replaceable Tip | 116 Non-replaceable Tip | 96 Non-replaceable Tip | 128 PATENTED (Screw On Replaceable Tip) | 128 Non-replaceable Tip | 160 Non-replaceable Tip | 128 Non-replaceable Tip |
| Extra Foam Tips | 24 PATENTED Screw On Replacement Tips | N/A | N/A | N/A | 32 PATENTED Screw On Replacement Tips | N/A | N/A | 48 PATENTED Screw On Replacement Tips | N/A | N/A | N/A | 64 PATENTED Screw On Replacement Tips | N/A | N/A | N/A |
| Masks | 12 Proprietary Maverick™ Foam Masks | 12 Paintball Masks | 12 Paintball Masks | 12 Paintball Masks | 16 Proprietary Maverick™ Foam Masks | 16 Paintball Masks | 16 Paintball Masks | 24 Proprietary Maverick™ Foam Masks | 24 Paintball Masks | 24 Paintball Masks | 24 Paintball Masks | 32 Proprietary Maverick™ Foam Masks | 32 Paintball Masks | 36 Paintball Masks | 32 Paintball Masks |
| Foam Targets | 2 | 2 | 2 | 2 | 2 | 2 | 2 | 4 | 4 | 4 | 2 | 4 | 4 | 6 | 2 |
| Bunkers | 6 | 6 | 6 | 6 | 6 | 6 | 6 | 12 | 12 | 12 | 12 | 12 | 12 | 18 | 12 |
| Inflator | 1 | | 2 | 1 | 1 | | 1 | 2 | | 2 | 1 | 2 | | 2 | 1 |
| Custom Website | YES | YES | | | YES | YES | | YES | YES | | | YES | YES | | |
| Locations Map | 1 | 1 | 1 | | 1 | 1 | | 2 | 2 | 1 | | 2 | 2 | 1 | |
| Customer Discount | YES | YES | | | YES | YES | | YES | YES | | | YES | YES | | |
| Phone Support | YES | YES | YES | YES | YES | YES | YES | YES | YES | YES | YES | YES | YES | YES | YES |
| Product Support | YES | YES | YES | YES | YES | YES | YES | YES | YES | YES | YES | YES | YES | YES | YES |
| Warranty | Warranty against defects: 1 year (bows, masks). 90 days (arrows, targets, bags). | Warranty against defects: 60 days. | | Warranty against defects: 30 days. Bows through 3rd party. | Warranty against defects: 1 year (bows, masks). 90 days (arrows, targets, bags). | Warranty against defects: 60 days. | Warranty against defects: 30 days. Bows through 3rd party. | Warranty against defects: 1 year (bows, masks). 90 days (arrows, targets, bags). | Warranty against defects: 60 days. | | Warranty against defects: 30 days. Bows through 3rd party. | Warranty against defects: 1 year (bows, masks). 90 days (arrows, targets, bags). | Warranty against defects: 60 days. | | Warranty against defects: 30 days. Bows through 3rd party. |
| Money Back Guarantee | YES | N/A | N/A | N/A | YES | N/A | N/A | YES | N/A | N/A | N/A | YES | N/A | N/A | N/A |
| COST | $3,895 | $4,399 | $3,995 | $3,695 | $4,695 | $4,999 | $4,395 | $7,295 | $7,599 | $7,695 | $6,995 | $8,895 | $8,999 | $10,995 | $8,695 |
Locations
| | Archery Tag® | Knockerball | Archery Attack | Upshot |
| --- | --- | --- | --- | --- |
| USA Locations | 855 | 12 | | |
| Worldwide Locations | 305 | | 13 | |
Social Media
| | Archery Tag® | Knockerball | Archery Attack | Upshot |
| --- | --- | --- | --- | --- |
| Facebook Followers | 2,248,462 | 332,100 | 253,608 | |
| Twitter Followers | 2,022 | 1,312 | 163 | 6 |
| YouTube Subscribers | 11,911 | 1,949 | 3,129 | 6 |
| Instagram Followers | 7,143 | 1,354 | 6,684 | |
| TOTAL | 2,269,538 | 336,715 | 263,584 | 12 |
Join the Archery Tag® Family
Disclaimers
Package pricing comparison data as of 2/22/18
Locations data and social media stats as of 6/14/18
30-Day Money Back Guarantee: You have 30 days from the date you receive your order. You pay for return shipping. After items are returned and inspected for quality, we refund less outbound shipping cost.